This section describes the process of setting up a new tablet. These basic instructions would apply to any tablet, Android or even Apple devices. However, instructions are modeled off the OS Android 8.1.0. If using a different OS, the order of procedures or location of needed files or applications may differ.
Tablet Models

The tablet models that have been tested and are actively used with TabSINT are:
Samsung Galaxy Tab E (SM-T377A)
Samsung Galaxy Tab A (SM-T380NZKEXAR)*
This tablet has a USB-C charging port. However, the similar 2019 8.0" Tab A (SM-T290NZSAXAR) has a Micro-USB charging port. The 2019 8.0" Tab A w/ S Pen, 2019 10.1" Tab A, and 2020 8.4" Tab A all have USB-C charging ports.
Tablet Start-up

When tablet is first turned on, it is required to go through Androids start-up procedures. The following has been customary for setting up a tablet for research or development purposes. Modifying for ones personal use circumstance will not affect it's ability to interact effectively with TabSINT.
Start the Android default procedures on the welcome page. Keep English selected as the default language.
Connect to desired Wi-Fi account, then click Next.
Check "Terms and conditions" and "Privacy Policy".
Leave Unchecked "Diagnostic data", then click Next.
Enter Google credentials for access to the Goggle Play Store and then Agree to the terms of service.
Don't Restore any backup.
Do Not require a PIN, Pattern or Password to unlock, select "Not Now".
Turn Off the Google Assistant by selecting "More" and then "No Thanks".
Uncheck all boxes related to Google services, then tap "Accept".
Skip creating or logging into Samsung account, tap the arrow in the lower right and then tap "Skip".
Turn Off "Secure your stuff" under Useful Features.
Click "Finish".
Adjust Settings
Select the Settings Icon

Connections: Turn On Bluetooth, Turn Off Location
Notifications: Turn off all of them
Display: Set screen timeout to 5 or 10 minutes
Apps: Turn off or disable whatever you can, Keep Chrome, My Files, Settings, Tools, Gallery, Google, Play Store and Google Play Services.
Lock Screen: Turn Off Notifications
Software Updates: Turn Off Download updates automatically
About tablet: Under "Device Name" name device according to a serial identifier that works for your situation
Turn Off Samsung Updates

There are Samsung Apps which will automatically update and cause the apps you disable in the next step to re-appear. Let's turn off that feature.
Tap to open the Samsung folder. Depending upon your specific software build you may see either an icon for Galaxy Apps or Galaxy Store. If the Galaxy Store app appears you may proceed directly to that app
Tap to open the Galaxy Apps and select Update
Tap to open the Galaxy Store
Tap the three dots in the upper right and select Settings
Select Never under Auto Update Apps
Turn Off App Updates

By default, Google Play will automatically update apps. This setting needs to be turned off.
Tap to open the Google Play Store.
Tap to open the hamburger in the top left.
Tap Settings
Tap Notifications and turn off Auto-updates
Return to the Settings menu
Tap Auto-update apps and select Don't auto-update apps, then select Done
Clean and Clear apps

New tablets arrive with many pre-installed apps. These are unnecessary for our applications and clutter up the screen, slow down tablet, and are burdensome with notifications. Let's clean this up!

Don't worry about cleaning up too much. Apps can always be re-installed or turned back on.
Tap and Hold an icon on the home page until the Remove from Home option appears then tap that option. Do this for ALL icons on the home screen.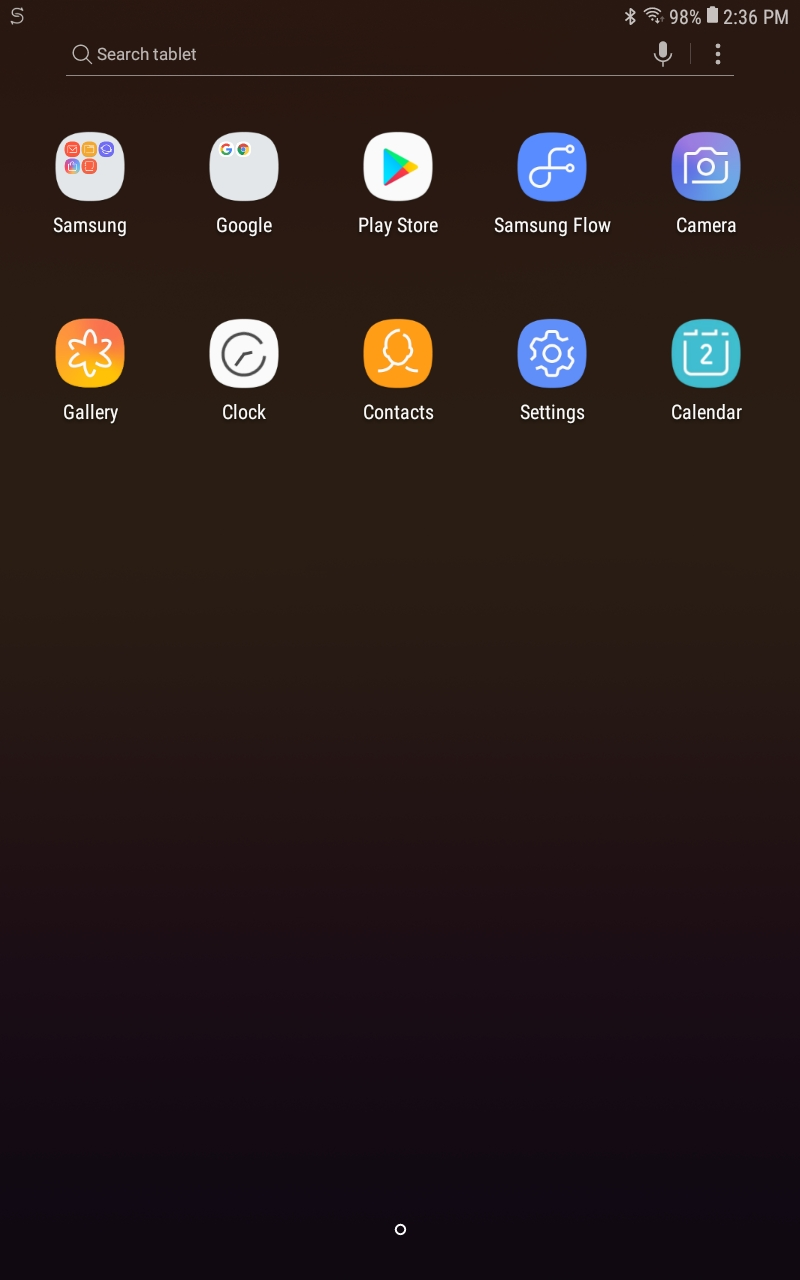 Scroll to view the remaining apps
Arrange applications on the page. Applications Android will not allow to be deleted, stack in a Not Used folder.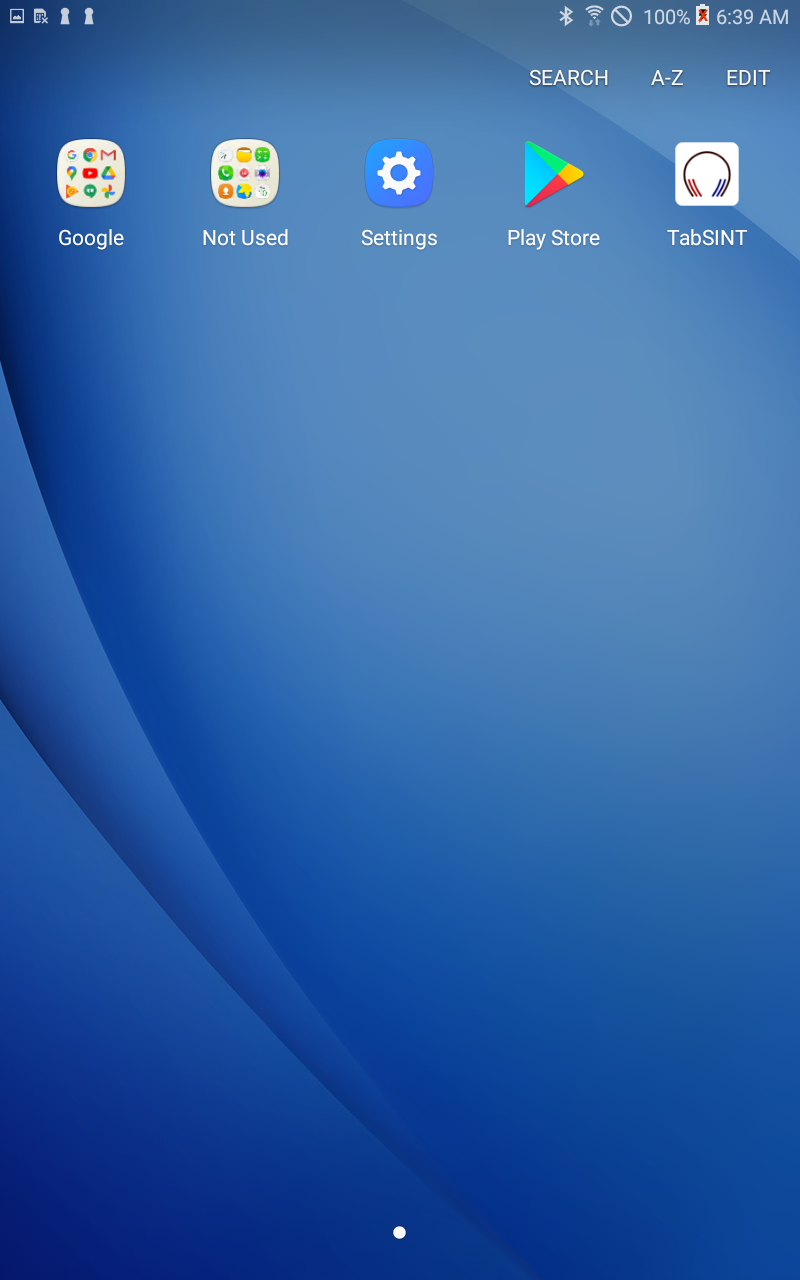 Download and Install TabSINT

To install and configure TabSINT, follow the procedure in the TabSINT Quick Start Guide. You will need a Google Play store account to complete this step.
Set Default Browser and Homepage

For convenience set the default Internet browser to Chrome and the default home page to tabsint.org.
Launch the Chrome Browser.

Tap the Menu icon located in the upper-right.

Tap Settings

From the Basics section, tap Home Page

Tap the Home Page switch to on

Tap Open this page then enter the preferred URL for the Home page. In this case we recommend tabsint.org

Tap Save
For Developers

For some advanced users, developers or under certain circumstances you may want to put the tablet in developer mode. Specifically in this case we recommend turning USB debugging to on.
Go to Settings and scroll down to About tablet
Tap Software information
Tap Build Number 7 times. A notice that Developer Mode is being activated will appear
In Settings select Developer Options and toggle USB debugging to on
For more on Developing with TabSINT visit the Developer Guide section of the TabSINT source code.